Wednesday 25th October 2017, marked the 70th Union College Valedictory Dinner, with an elegantly themed blue and white event. Board members Professor Kaye Basford and her husband Alan, Jane FitzGerald, and past resident and UQ Valedictorian Natalie Nucifora, joined us to celebrate the outstanding achievements of our residents, and to farewell some much loved members of our Union family.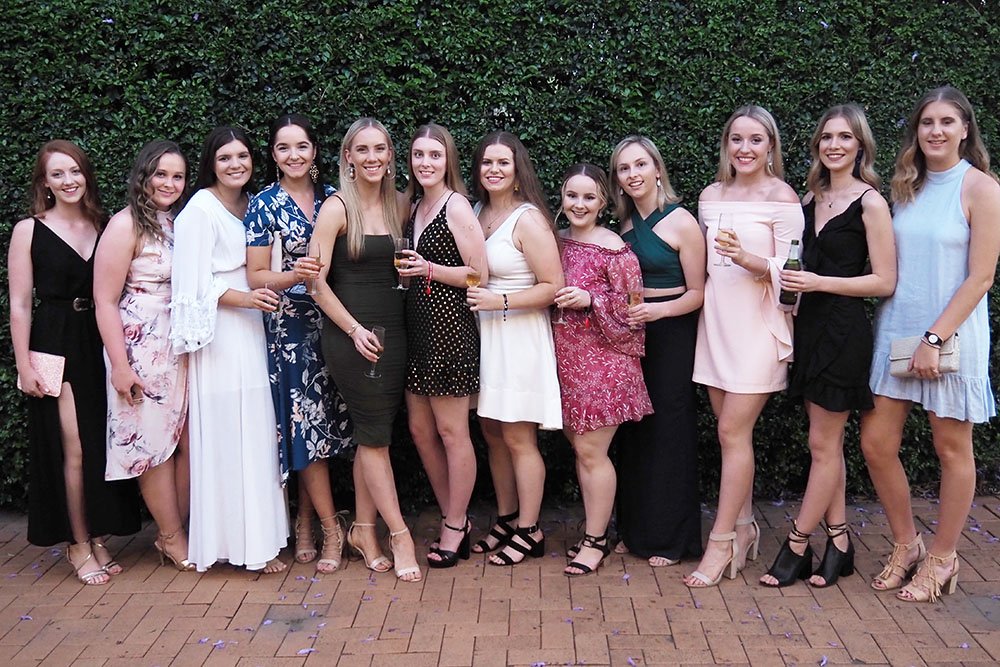 The night treated us to an array of inspiring, heartfelt and memorable speeches from Natalie Nucifora, Head of College Peter O'Brien and Dean of Students and host for the night, Mey Orchard. Madelaine Coultan also entertained us with her stunning rendition of Adele's 'Someone like you'.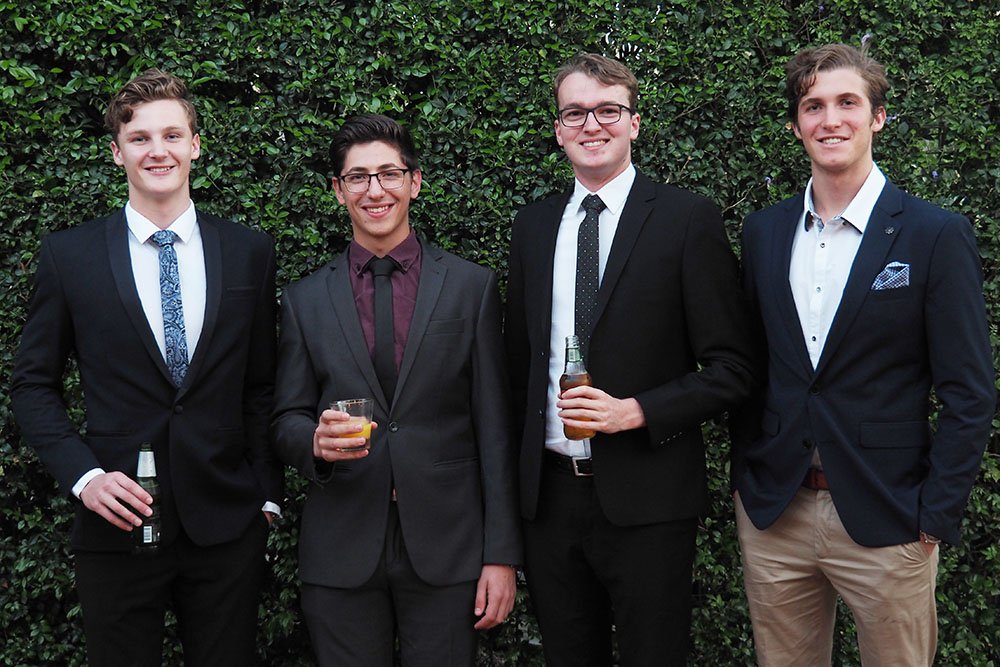 Resident Mentor (RM) and Community Engagement Officer (or CEO as she likes to call it), Katie Broomfield regaled us with tales of life at Union over the three years she has been here. Memories of flash mobs, peg assassins, puppies and cupcakes, movie nights, room lockouts after a shower, and endless snacks were just some of the highlights of her residency!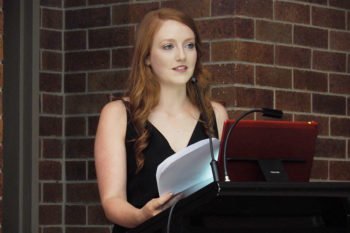 'From the first day, Union has felt like home. That can definitely be attributed to the phenomenal RM program – being welcomed to this massive building by friendly Resident Mentors was the first step to Union becoming a second home.  Little did I realise then, that I was walking into a building to meet the people who would become my friends for life. My experience at Union has been made up of little moments… Each with the ability to enhance the unforgettable time that every college resident has. These small moments make one entire experience. It's an experience that cannot be replaced or beaten. Most importantly, it is made up of the people we share it with. That's why it's unforgettable.'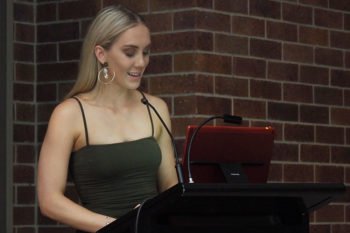 Following the awards presentations, Senior Resident Mentor and graduating UQ Valedictorian Abbey Stuart delivered an emotional and heartwarming reflection of her time here at Union College. From an apprehensive entry to the college three years ago (which involved some ugly sobbing and bucket loads of Dettol!), to a confident and successful young woman leaving the college with countless memories.
'It was for the big nights, the bellowing laughter, the better days spent in the OB, the besties I would never have met, the buckets of vodka consumed, the Berocca's needed the next morning, the sometimes below average grades, but the always above average banter, and the berry crumble for dessert. It was for the late night 'Ville' runs, the bubble of college politics that so greatly influence our lives but don't really matter outside, and the stress of not getting the last banana at breakfast.
It was for the office ladies (Julia, Ann, Lyn, Alice, Monica & Kristin) that are our mothers and gently chide us when they see too many online shopping packages being dropped off. And Brad, who is our 'cool uncle' who you know you can always go to for advice, and get to pest spray your ants when you annoy him like me. And to the kitchen staff we love, thank you, you feel like family.
It was for the sea of red, tune pumping and flag waving at sport, for being a water girl, for the gee up posts, and for three years of meeting the most incredible people who have all shaped me in some way or form, just like they will have for you.
And for all the firsts we have experienced, those leaving will have experienced a lot of 'lasts' this week. Unless you've experienced Union, you'll never actually understand what it's like. You'll never have been to 'college'. It's like our own little club, a special bond over a red rubber band fob.'
Congratulations to all of our 2017 award recipients!
Union College Service Award:
Clara Sandona
Jane Surman
Katie Broomfield
Lachlan Dokter
Matteo Christophides
Sophie Coulon
Union College Quiet Achiever Award:
Emily Bullow
Jack Rogers
Jeff Cronin
Ryan Todd
Outstanding Leadership within the Union College Community
Outstanding Contribution to the Academic Life of Union College
Spirit of Union College
Ray of Sunshine Award
To all of our graduating and leaving residents, thank you for your invaluable contribution to Union College life. You will be missed! We wish you every possible success in your futures and look forward to seeing you achieve your dreams!
Read the full speeches from Abbey and Katie here.