The University of Queensland Union College is an independent, co-educational residential college located on the St Lucia campus of The University of Queensland, (UQ) Brisbane, Australia. Since its foundation in 1947, Union College has provided a secure and supportive environment where residents may pursue their academic endeavours, while enjoying a wide range of cultural, sporting and social opportunities not available to off-campus students.
Union College is conveniently located in very close proximity to UQ. Union boasts unique, heritage listed buildings, beautiful gardens and high-quality, modern facilities. Every year, 331 undergraduate and post-graduate students (domestic and international), call Union College home. Individuals forge strong personal bonds and establish professional network opportunities through living and studying together.
Union College is proud of its ethos of respect for equity, diversity and difference – where every individual can pursue their own academic goals and personal interests. Our core values of personal accountability, always respecting others, and being mindful of their needs ensures a harmonious college community. Union College is the optimum home away from home study experience. Immerse yourself in a whole new living and learning community with a variety of cultural, social and sporting events available to all residents. Benefit from professional networking
Welcoming Students from Australia and around the World
Union College welcomes people studying at other Universities aside from UQ. Universities currently represented at Union College are QUT, Griffith University, ACU, CQU and USQ. We also welcome students from close by (greater Brisbane), regional Australia and all around the world. Spend less time commuting and more time enjoying the many benefits of college life, three meals a day, WIFI, cleaning and free study support all included in the one price. We offer an inclusive community with loads of opportunities all for the taking. It's up to YOU to decide what activities you get involved in. The VALUE and OPPORTUNITIES surpass other types of student accommodation, so what are you waiting for!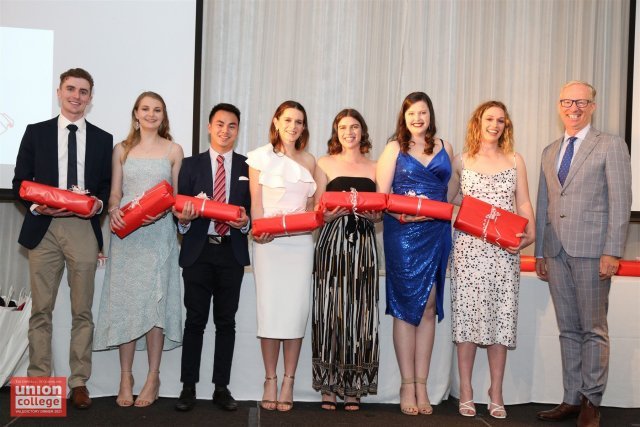 Union College was the first residential college in Queensland to offer accommodation to both men and women.
Union College is a place of significant cultural heritage and marks an important stage in the modern development of The University of Queensland.
Designed in 1963 by well known architect James Birrell, Union College was highly praised for its innovative design. The three storey residential block sits above the facilities building to enjoy cooling river breezes and panoramic views. The spaces between the buildings are designed to create picturesque inner courtyards. An interesting feature of the building is the use of Mt Coot-tha blue-stone throughout the site.
Union College, housed originally in inner Brisbane, opened on the St Lucia site in 1965 with the buildings completed by 1974.
Union College was heritage listed in 2004 on the basis of cultural, social and architectural significance.
In 2015, Union College celebrated 50 years of being open at the St Lucia site.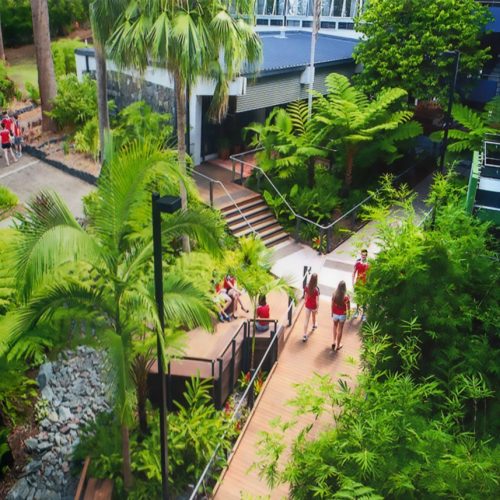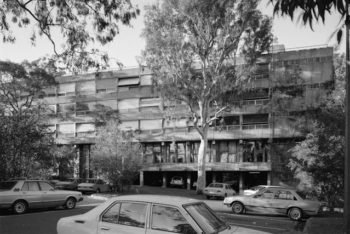 Union College in 1967. Image courtesy of Richard Stringer.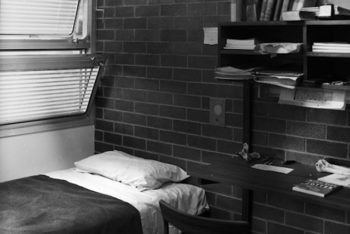 The design of residents' rooms serve people well now as they did years ago with air-flow, views & privacy thoughtfully applied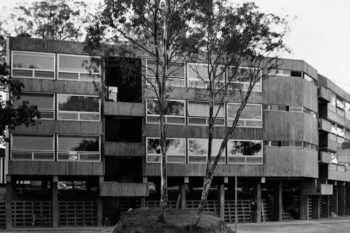 Rooms are housed above the facilities area to maximise views, river breezes & to take in the surrounds
Union College comprises of several buildings. The two main buildings are linear in form and have an extruded appearance. The facilities block is a single-storey building, which flows through underneath the lower storey of the residential block. The structure has a steel sheet roof supported by an off-form concrete portal frame infilled with Mt Coot-tha blue-stone. The ceilings are lined with strawboard and the joinery is blackbean. There is a distinctive brick fireplace with four arched openings over a central hearth – creating a warm, welcoming and somewhat unique central meeting place.
There are courtyards formed between the angles of the buildings. Raised areas set with trees and surrounded by blue-stone retaining walls preserve original hillocks on the site. The existing major trees have been supplemented by plantings of other trees, shrubs and flowering plants. The gardens are a unique and beautiful feature of Union College – providing a lush oasis just minutes from UQ.
The residential block is a three-storey building supported on off-form concrete pilotis. The plan form of the building follows different angles, facing variously north-east, east and north, creating courtyards that contain large mature trees and gardens. The pilotis support dark manganese brick internal walls. Open stairwells with off-form concrete external balustrades are located at regular intervals along the building. Windows are metal framed, with the original windows composed of a large panel spanning the window space at the top with two smaller windows below.
Tutorial Program Coordinator 
Reenah Jays
Telephone: 07 3377 1816